REGISTRATIONS ARE NOW OPEN FOR 2020!

**IMPORTANT INFORMATION**
~ PREVIOUS LOG INS FOR PLAYNRL ACCOUNTS WILL NO LONGER WORK AND YOU WILL NEED AN NRL.COM ACCOUNT TO REGISTER. The NRL has released a new registration system for the 2020 rugby league season and beyond.    If you haven't created an NRL account yet, this can be done by clicking SIGN UP on the Log In screen as you start your registration at PlayRugbyLeague.com
~ Anyone linked to your email address in the "old" system should be available for you to re-register to Play, Coach, Train, or Volunteer in 2020.
~ Members missing from your new NRL account?  Try using the "Add a New Participant" function during registration – enter the person's details as per their ID and search.  Follow the prompts to verify and link them to your account.  Or contact Jaime (Brothers Football Admin) HERE and advise: player name, date of birth, and correct email address.
~ ACCEPTANCE OF PLAYERS FOR 2020: All players, coaches, trainers and volunteers are welcome to register now.  HOWEVER, due to local league rules, we are not able to formally accept new and transferring JUNIOR players until Sign On Day on 19 January.
~ Female Only Team Age Groups: girls can play up up to 2 age groups, dependent on available age groups
U12:  born 2008, 2009, 2010 (MUST have turned 10 before taking the field to play U12)
U14: born 2006, 2007
U16: born 2004, 2005
U18: born 2002, 2003
**2020 REGISTRATION FEES**
Juniors
Under 6 (mixed) – $200
U7 – U12 (mixed) – $250
U13 – U17 (male) – $250
U12/U14/U16/U18 (female)* –  $150
Seniors
A Grade/Reserve Grade/U19 – $180
Open Women* – $150
* Female fees have been standardised across the local clubs due to NRL, QRL, and Corporate sponsorship
~ DEPOSIT – deposit payment of $150 is required for ALL Junior Players before taking the field for their first match (this is deducted from full rego fee, NOT in addition to)
~ PLAYER FEES MUST BE PAID OFF BY JUNE 30.  After this date, players will not be permitted to take the field until fees are paid.
~ PAYMENT OPTIONS – payment can be made through the registration form, direct deposit, or by cash/card in the Footy Office (cash/card payments accepted FROM Sign On Day on 19 January).  You are more than welcome to pay off player fees.  Get in touch with Jaime (Brothers Football Admin) HERE to organise a payment plan.
Direct Deposit details:
Account name: Brothers RLFC
BSB: 084 502
Acc: 018061397
Ref: Player name & Age group
~ SIBLING DISCOUNT – there is a $20 discount for your 2nd child, and $40 off for each additional child for U6-U17 Players.  This discount is NOT valid for U12/U14/U16/U18 Girls or male/female Seniors fees.  At this stage the sibling discount cannot be included in the registration form, but if you are paying FEES IN FULL through the rego form, please contact Jaime (Brothers Football Admin) HERE for a sibling discount code.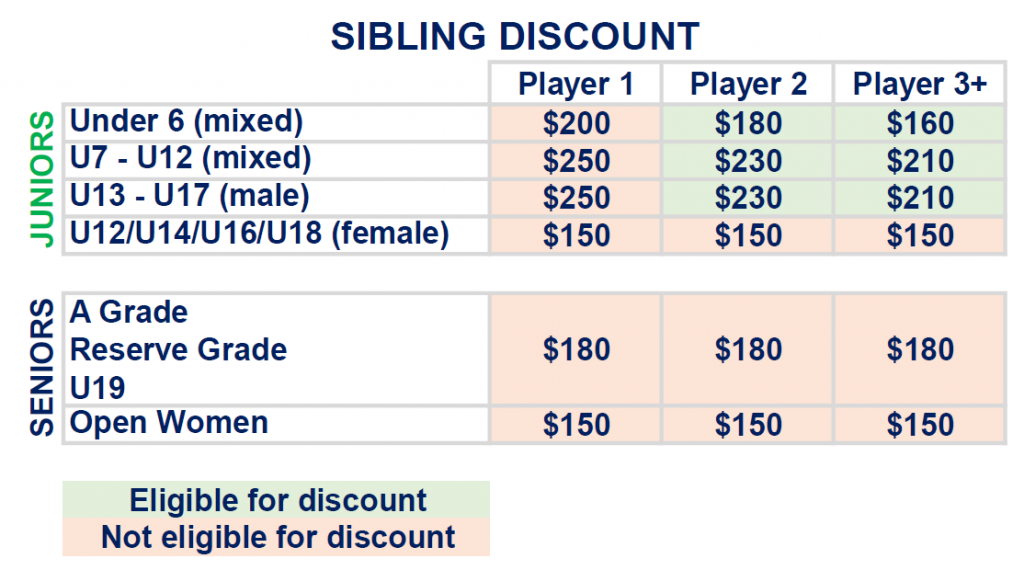 **SIGN ON DAY – 19th January 2020**
Brothers will hold Sign on Day from 9am-1pm on SUNDAY 19 JANUARY 2020 at the Brothers Footy Office (end of field 2 at Jack Manski Oval).  More details to be released soon!
Keep an eye on our Brothers Rugby League Townsville Facebook page for regular Brethren updates.